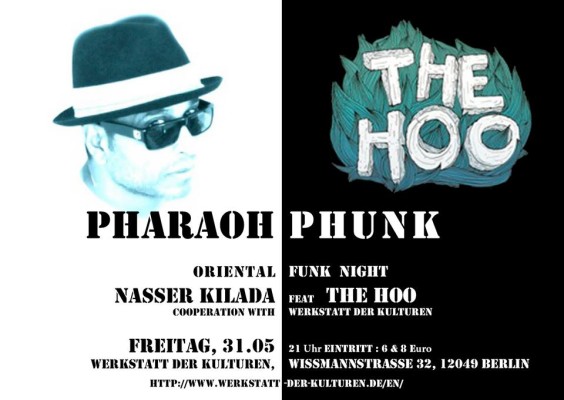 31. Mai 2013
Berlin
Details
Time : 21:00
Venue : Werkstatt der Kulturen
Address : Wissmannstraße 32, 12049 Berlin

Pharoah Phunk!
Nasser Kilada feat. The Hoo

A unique multicultural constellation of artists for an oriental funk night.
Nasser Kilada (Crossover Kairo) is proud to present his new project mixing his oriental vibe with some young talented musicians from the Berlin Funk scene (The Hoo & Gonçalo Oliveira). This euro-egyptian combo will surprise you with some inedits versions of classics from the oriental world and a special taste for hypnotic improvisations.

What's the Hoo!!?!

The Hoo is the brand new ItaloFrench FutureFunk act in the Berlin musical landscape.
Formed around Anthony Malka (keys), Tristano Pala (vocals and flute), Uele Carboni (bass), Alex Sitnikov (drums) & Andrea Puddu (guitar) this collective evolves in different configurations including live drumming, horns, backing vocals, DJs….

Musically it's like an "under acid" Sly Stone jamming with The Roots. It's all about tightness. About head banging and sweat.